jo elvin and bella the jackzu*
(*that's jack russell-shitzu cross)
There's a reason why Glamour magazine is the biggest selling fashion magazine in the UK, and her name is Jo...
Words: Simon Glazin Pictures: Rachel Oates
Magazine Editors' time is precious. From signing off page designs, to managing budgets, to commissioning work, to liaising with advertisers, publishers, designers. The list goes on. And on. And on. Add to all that being a mum, a wife and a dog owner and you get Jo Elvin. Granted, she's not the only editor to lead a busy work and private life, but seeing as Glamour magazine is the UK's biggest-selling fashion magazine, she does it bloody well.
I met Jo years ago, when I was invited to join Glamour magazine's 'Style Tribe' (10 bloggers were asked to write for the website on a regular basis), and we've been in touch ever since. I interviewed her for my YouTube channel too (see it here), where she opened up about air brushing on the pages of the magazine, amongst other things. I've worked with other editors over the years, some carbon copies of The Devil Wears Prada's Miranda Priestly, others super lovely. But none so open as Jo. She doesn't mind what you ask her. She's always got a funny anecdote to tell. And she's always smiling.
It might be because of her Australian roots, or because she has a great support network of writers, designers, friends and family around her, but one thing is for sure, Jo's amazing inclusive attitude is so refreshing in an industry full of egos. And to see her interacting with Bella, her little monochrome sidekick, shows yet another kind, loving side of this Editor.
Scroll down to see more from Jo and Bella...
On life with Bella: This is so cheesy but it's true – Bella completes us. She is so unbelievably sweet and loving and I can't get enough of looking at that scruffy little beardy face. We are all totally in love with her and all put sweaty effort into being her favourite. Though my husband, Ross, is The Best One in her eyes.
On work: I'm in charge of Glamour magazine and its content across print, the website and our social media channels. It's my job to steer/direct the team, approve which ideas we do and don't do, as well as come with a lot of those ideas myself, obviously. It's my job to communicate to the audience and to our advertisers what's great about Glamour, promote our point of view, represent us publicly. It's my job to devise and, with a team, co-ordinate events, such as the Glamour Women of the Year Awards and the Glamour Beauty Festival.
I love talking to the Glamour audience – be it via the magazine, our website, social channels or our podcast. Seriously, it's a great privilege. Our readers are so wonderfully engaged and responsive to what we put out there. And I love the positive impact that so many of them tell me we've had on their lives. Hand in hand with that is, I love being creative with the team about how we deliver what our audience wants. My favourite times are just sitting around discussing ideas and talking and talking until we've hit upon a very 'Glamour' way to do something we feel our audience will love.
The lows? Just usual things like, when that cover feature you've been working on for two months falls through, or the mundane aspects of discussing ever-tightening budgets, stuff like that. Normal stuff that most people would happily lose from their job's remit. But the highs definitely outweigh the lows.
On filling the pages of Glamour: Well, I think you have to be very clear about who your audience is, that is the number one thing that helps you focus on what ideas are right and wrong for them and for our magazine brand. So with that in mind, I don't feel the pressure to 'reach out to everyone'. I think that's the fastest way to lose your identity and then no one knows who you are as a brand and no one's interested. Once you've decided your audience, then it's about, how do we craft content so that as many of that audience as possible wants to read us
On her daily routine: The husband and I get up about 6.30/6.45. Most weekday mornings, he takes Bella out around 7.15 for about 40 minutes, while I get myself ready and help my daughter with whatever she needs. I check all my emails/social etc around 7.15 but I try not to get too distracted until I'm on the train about 8.15. The work day is a real mix. Today I'm reading a lot of copy for the August issue while finishing signing off designed pages for the July issue, commissioning copy for our website and forward planning some cover ideas for our October and November issues. There's a few appointments, I'm off to see a designer's new collection later today and then dinner with another fashion industry friend. Oh and we recorded an episode of our podcast this morning!
We walk Bella in the morning, we have a mix of paying a dog walker and local friends who love having Bella. SO many people love Bella, she is never short of company! She is a really easy dog, all she wants to do is hang out doing whatever the humans are doing.
On career advice: The usual boring clichés, because they're true. Show up, put your best effort into everything you do – I don't care if it's cleaning the sink- it will get noticed. Don't obsess about where you want to be, focus on doing a great job now, I promise it leads to better things.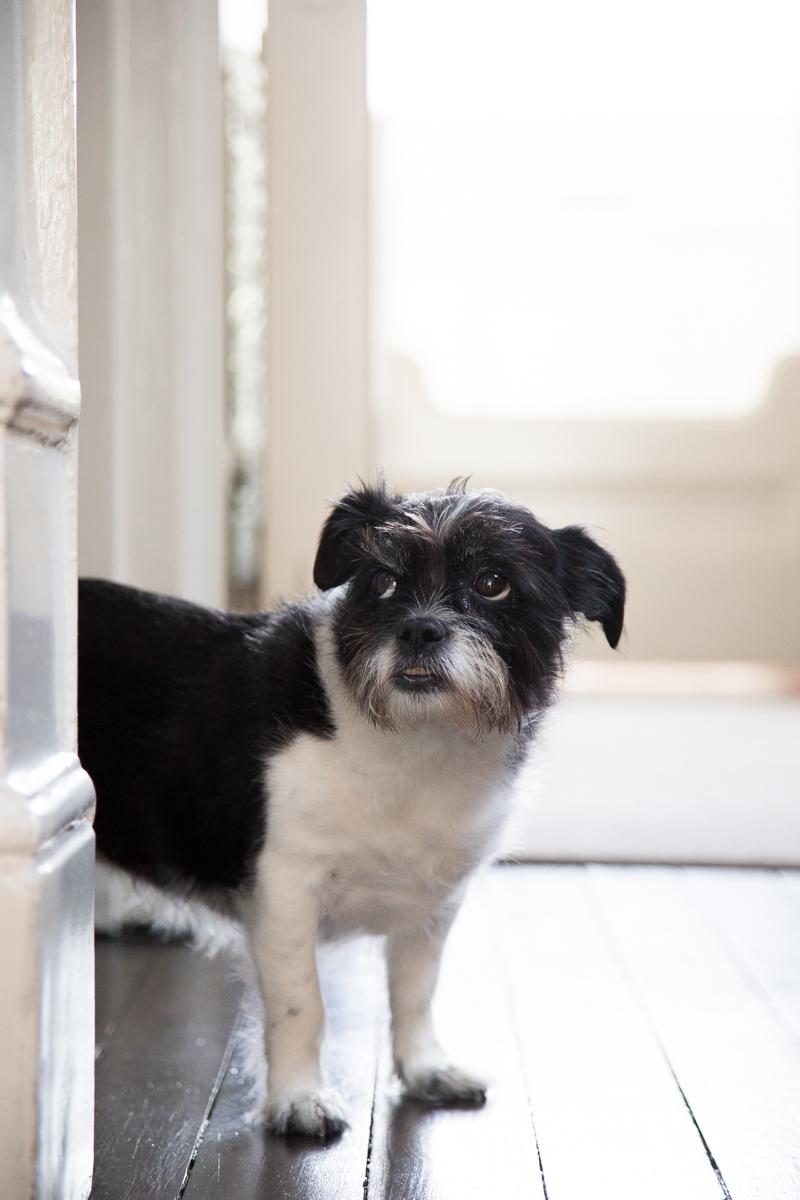 'All she wants to do is hang out doing whatever the humans are doing.'
On career plan B: There wasn't really a plan B. I've always loved magazines, although I had a brief stint in celebrity PR when I worked for Neighbours. It only confirmed that what I'm doing now is what excites me. Still!
The best fashion advice: Stop being paranoid about your legs and wear more skirts.
On her favourite Bella 'tail': She has this strange habit of trying to get her snacks to play with her. Dances and prances around them, tail wagging, before going in for 'the kill'. It never gets old to me, I am in hysterics every time I see it. Which is most days.
On her dream dog owner cover star: To celebrate her inauguration as America's first female president, let's have Michelle Obama and her dog Bo in 2020! I admire her a lot. I'm always energised and inspired when she speaks.
One thing people should know about her: I am making this all up as I go along.